Free Chat!! :)

Edit
---
Ok Guys, so this is the ONE free chat room on this wiki! I would recommend you STAY on Charlie's wiki (cause it's awesome and amazing and more), but if REALLY want to, you can free chat on this page! :) have fun! Just know all admins will be watching -cough cough, Brianna, cough cough-! Anyway.. Have fun! :D
---
The only rules are....
1) no insulting, making people feel bad, insulting, cyber-bullying, or anything of that sort! I will not tolerate it, and nether will any of the admins or users!
2) try not to have to much drama, just have fun!
3) please, don't replace this page with Charlie's wiki! He, and some many others worked really hard to make it the way it is, and I don't want to replace it at all!

4) and the last, HAVE FUN!!!! :)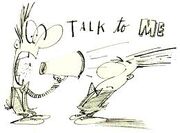 Ad blocker interference detected!
Wikia is a free-to-use site that makes money from advertising. We have a modified experience for viewers using ad blockers

Wikia is not accessible if you've made further modifications. Remove the custom ad blocker rule(s) and the page will load as expected.